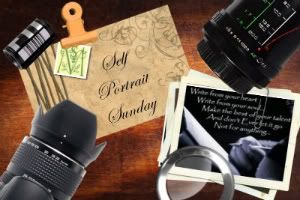 Here are the reasons for playing: Come on, admit it, you look through your photo albums or computer folders and see very few photos of yourself. Maybe it is because, like me, you are usually behind the camera. Or maybe, it's because you never feel you look good in photos so you tell everyone, "don't take any of me."
Sadly enough, this means that your children will have very little photos to remember you by when you are long gone. No kids, well how many times have you looked at photos of yourself from 5, 10, 15 years ago and said, "and I thought I was fat?"
We aren't getting any younger and we will one day, want to look back at a time when our face was less lined, or more recognizable than the one staring back at us in the mirror.
Join me every Sunday post, and post a photo of yourself on your blog and link back to me so I can come visit you. The photo can be anything you want as long as YOU are in it.
Hope to see your lovely face.
I took this on Friday afternoon. Goddess and I were swinging outside, enjoying the amazing weather. I held the camera up over my head and snapped.