Beach or mountains?

I was never a beach person, but since I live in the mountains and haven't been to the beach in over 10 years it would be nice to see the beach.



Lunch
Online shopping or store shopping? I really hate shopping so I have I to choose, I would do it online!


If you live in America, do you enjoy Mother's Day? If not, does your country celebrate Motherhood in any way? I love Mother's Day. After my mom passed away in 1978 I tried to hide from all the Mother's Day commercials and the Hallmark ads. Now that I have children I love Mother's Day.


What would be your best gift for Mother's Day?
Spending the day with my husband and children all day as they surprised me with breakfast in bed, flowers, small trinkets, the works. I can't wait until they are old enough to really take care of me at Mother's Day. They are only 4 & 6 and only know it's Mother's Day but the brain washing starts now.
Recipe of the Week (instead of your recipe for life what is it just for the week?) Mother's Day and My son's Birthday make May a great month.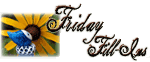 1. Apples are to oranges as

Rob Pattinson is to obsession!!!

Yeah I went there Clary!
2.

Yeah, I'm a Twilight Addict

and that's all I have to say about that.
3. I think I hear

My Mother Calling!
4.

Fly Your

flag

Proudly
5. Do what you want to do, but

you can't do it here!
6.

He winked and took my hand

, and behind him was a Radio Flyer wagon; in the wagon was a bucket filled with

champagne and I knew we were going to have a good night.
7. And as for the weekend, tonight I'm looking forward to

Chilling out

tomorrow my plans include

shopping for my son's birthday

and Sunday, I want to

go out to eat with my family!