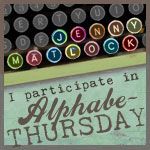 Another new meme I found while trolling over at
Freda
's.
Head over to
Jenny Matlock
's for one of her fun meme's called
Alphabe Thursday
where she is covering the color orange today.
Here is Goddess and sexy Teach during the carnival this summer. That must have been a beautiful orange slide back in the day! I love all the reflections on this one! There are 3 Goddess's on that slide, can you see them!?