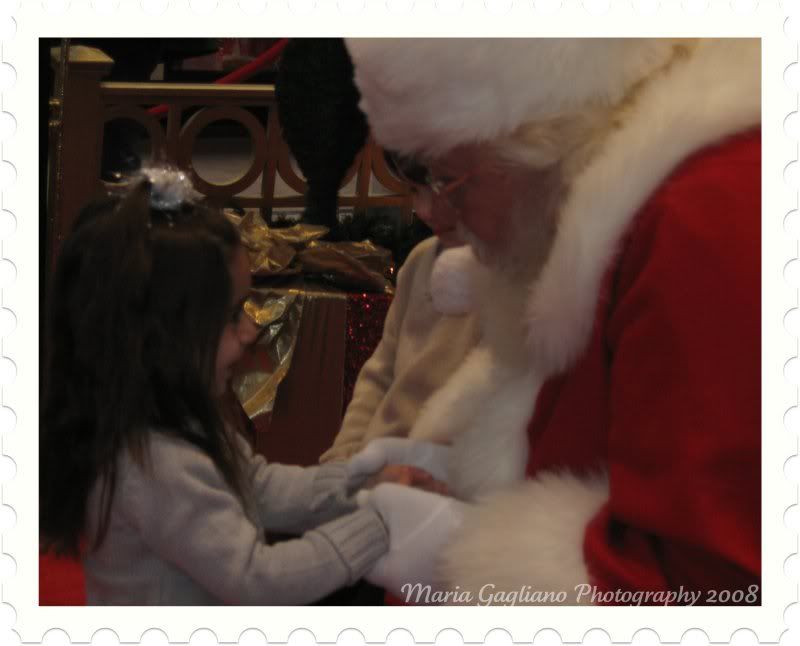 We went to see Santa on Friday. There were 4 people in front of us and the line went very quickly. When it was our turn we were there for 25 minutes. It wasn't because of the kids it was Santa. He was very sweet and took a lot of time talking to my daughter and occasionally my son who was sitting next to him. It was a sweet experience. He held my daughter's hands as she stood in front of him and in the most loving Santa voice said, "I know what your name is, your name is Cinderella." The he sang Santa Claus is Coming to Town and asked them what they wanted for Christmas, if they have been good, if what he wants them to leave out for him on Christmas (cookies, milk and carrots for the reindeer), what he should bring for mama ("is she a good mama? What should I bring her?" The answer "Christmas presents") etc.
It was very nice and I was able to take tons of pictures while waiting for the photographer to tell me when he was ready. I was getting uncomfortable as I moved around taking photos from all angles because there were people waiting on the line. I told the photographer to let me know when he was ready and I would stop using my flash. He said, "whenever Santa is ready" as he and the other assistant rolled their eyes.
Finally, we got the picture done and Santa told the kids to "mind their mama" to which I filled in "that means no talking back, hitting, or fighting."
Then, he reached into a bag behind his back and pulled out a little bear, holding Goddess he said, "I never do this but if I give you this bear will you take it home and take care of it forever?" She said "yes."
He turned to Handsome and said, "would you like one too?" My son of course said, "yeah".
I went to pay and watched two more have photos taken. He gave them candy canes and was with each about 3 minutes.
It was a touching visit and my kids are dying to go back.
For another picture of this day go to my other blog
here
.