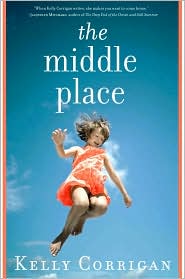 I was lucky enough to receive a copy of The Middle Place by
Kelly

Corrigan
. I finished it in 3 days and this is with being a mom of 2, a
blogaholic
, a wife, a friend, starting a new business and reading Twilight. Why was it such a quick read? It is a fantastic book. The kids go to bed at 8:00, I shut the TV off and read.
Let me tell you about Kelly and her story. She was 36 years old, married with 2 kids and wrote a weekly column for a newspaper.
The Middle Place
is that overlap between parenthood and childhood. Most of you know that place, the place between your adult duties while caring for your parents. Kelly suddenly notices a lump in her breast one night while bathing with her babies.
In her book, Kelly takes us through her diagnosis, her relationship with her family (she has a wonderful support system), her marriage (her husband Edward should be cloned). The book is wonderfully written with moments of humor. There is no down time and this is the first book I have read that tells me what will happen to me if (God forbid) I ever have to go through radiation treatment. Kelly also filled a void that I had. My mother passed away of cancer. All these years I can only imagine what that must have been like, now I feel I know.
I must admit that I did cry while reading this book. It is not a sad book! What I cried over was the relationship she has with her father. I adore her father George
Corrigan
. We should all have a George in our lives. Her dad is the main reason she is the women she is today. When George learns that he has another round of late-stage cancer, it is Kelly's turn to take care of the man who always had her back.
Kelly is a wonderful writer. She gave this book a heart and it is actually palpable. Brilliant writer, beautiful
memoir
.
Kelly is one busy women, check out all
these
places she is going to be. She just may be at a town near you.