The last time I played along with Thing In My House Thursday, I
posted
pictures of one half of my son's galactic style room. I mentioned that we based the room on a bedspread and on the movie
Stargate
. Here are photos of the
Stargate
closet my husband built.
Here is a picture of the closet. It was your basic, opposing, sliding doors type box. He took the doors off and created this massive temple looking facade.
The first picture is one with the lights on. He installed a small red button type switch which is on a five minute timer. The lights are your basic red string, Christmas type lights.
The second picture: I opened one of the doors to show you the inside. The other side is just a rod with clothes hanging on it. Because the rooms are fairly small, he built the dresser inside the closet. There are sliding shelf drawers a big shelf going across the top.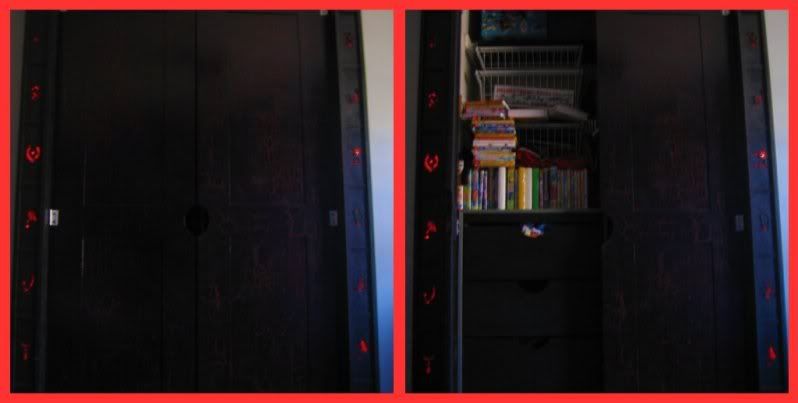 In these pictures you can see the detail that went into the wood work of the closet. He carved each symbol and the first picture is my son's initials. The others are some that he found from the actual movie
Stargate
. You can see in the middle picture the type of crackle paint that was used. Only on an angle can you see that it has red in it. Otherwise if looks black. This was also used on the window. You an also see the 3 recessed lights above the closet in this picture.
In the last picture, I wanted to show you the trap door on either side for the Christmas lights. If a light ever goes out, he simply pulls them up through the door to change the bulb. Genius, No!???
I have so many projects around the house I would love done. With the economy these days, I would have to take a cash advance to do any such work around the house. Times are hard everywhere. We have to pray for an upswing. I thought it was hard 3 years ago but it has never been this bad.