This weekend I received the most awesome children's product. It is called

Toobeez

and the reason I think it is the most awesome is because the possibilities are endless.

My kids were excited when they saw the box and couldn't wait to see what was inside.



We opened it and there was another box. They were beyond excited because in their mind there was a box for each of them.
I finally opened to show them what the box held. Inside was the most colorful 57 pieces of plastic I had ever seen. The kids were so excited with loads of "

wow's

" and "what is it?"

Telling them it was a way for us to build something we could sit in like we do with the Little People, I got to business. While I built their first fort, they fought over the boxes. Finally I had my first fort constructed and they ran and got their mini couches to put inside. I made it wider by simply adding more attachments. It was so easy, just take one of the yellow multi-keyhole balls and insert a plastic tube into it until you feel it click. So easy, my 3 year old could do it.


We added the slide on curtains and they did a mini puppet show, then we threw some blankets over it, gave them their lanterns and played inside. There was room for their mini couches, me, some stuffed animals, 2 blankets and 2 kids. We changed the configuration easily about 5 times. Finally, they lied down to drink their milk while I read them a story.

Before the kids went to bed we had to talk them into pulling it down promising them we could put it together again tomorrow. We put all the pieces into a giant storage bag that was included with the set. Love the bag because it easily holds all of the pieces, zips up and has handles for easy transport.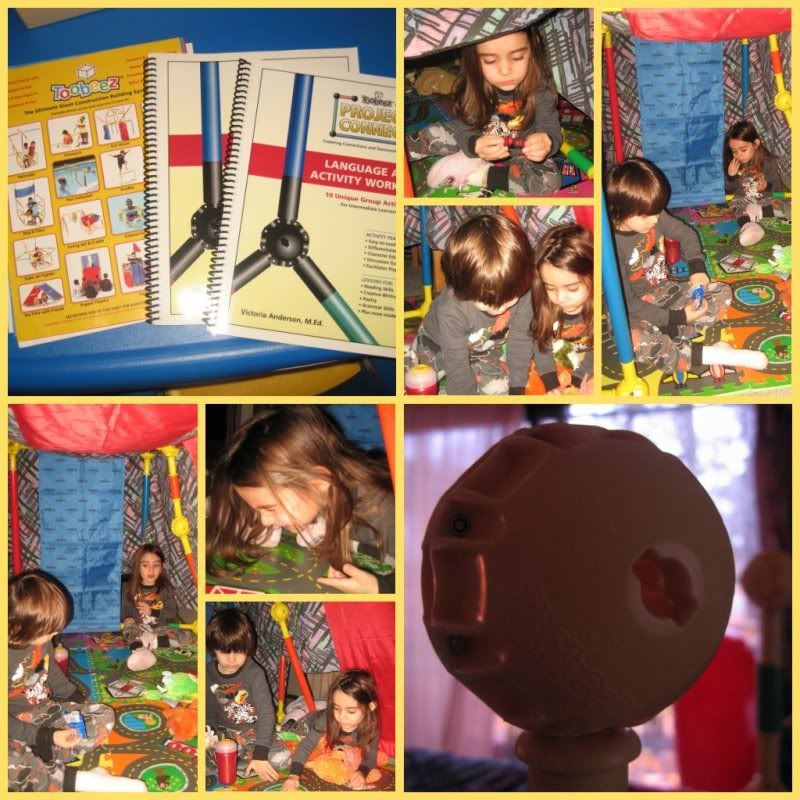 My son's wish for tomorrow is to make a boxing ring and Goddess wants to make a swing and cradle for her teddy bear while I want to make an obstacle course with hurdles for my son to do like he does in his Tao class.