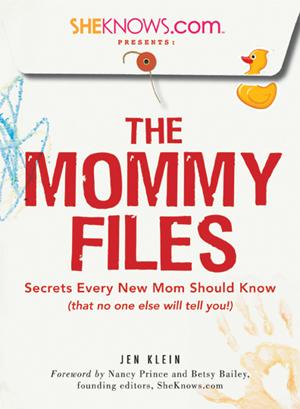 I wish this book had been written 7 years earlier. When I was pregnant with my son I wanted a book that would simply give me the truth. I purchased so many books, each one said pretty much the same things but I didn't feel they were talking to me but rather at me.
A lot of you may be familiar with Jen Klein from She Knows. Jen is the contributor on the
She Knows Pregnancy
, and Baby website.
Product Description
And Jen Klein knows motherhood. She's survived changing a soiled diaper in a truck-stop bathroom while suspending a baby in mid-air. She's witnessed the judgment of the so-called "Mommy Mafia." She's found dried applesauce on her shirt. And in her hair. And the baby's hair. And the dog's fur. Here she reveals secrets she's learned along the way about mastering the art of motherhood, from how to handle strangers who ask how much weight you've gained to (finally!) getting them on the big yellow bus--on time and with clean underwear. Inside SheKnows.com Presents: The Mommy Files you'll find:
Your mom didn't know what she was doing either
A pediatrician is your partner, not your adversary
Playgroups are for moms more than they are for kids
Just because they can talk doesn't mean they can reason
Being a supermom is all about asking for help
Disclosed here in a friendly, wry look at motherhood, Jen Klein takes you through each lovable (and less than enjoyable) step toward that coveted title that will be screamed at you so many times in the years to come: "Mommy!"
What I Can Tell You:
What Jen Klein has done with The Mommy Files is just give you the brass facts without making you feel like you are a total idiot in one of the most important change to your existence.
The book reads like loving advice from your best friend.
Question, answer and inside secret advice all there in one handy, lightweight, paperback book that you will be able to throw easily in your pocketbook to read whenever you need advice.
My favorite sections happen in the middle of the book with The Mommy Mafia and Playgroups are for Moms not Children.
Here is the write up of the book from the
She Knows
Website.
To Purchase: Click this Amazon link. BTW, the book is in such high demand there are only 3 left with more coming and it just hit the shelves.
To Win:
Fill out the form below and answer one of these questions: Which pregnancy book was your bible when you were pregnant or, who are you trying to win this book for? By Midnight, May 3, 2010
US ONLY!
*Blog about this, and leave me the link for (3 extra entries) (each entry must be separate)
*Follow my blog (2 entries) (each entry must be separate)
*Follow me on
Twitter
, leave your twitter name
*Enter another giveaway on my blog and let me know which one.
*Comment on a non-giveaway post and tell me which one.
*Tweet this giveaway and leave your link
*Add my main button to your side bar

Do not leave entries in the comment section,
those are for comments about the post only!!!!!
Disclaimer
: I received a copy of Mommy Files from
FSB Associates
.