Tweet
Last week I was offered the chance to try out the coolest pillow ever. Sound Asleep comfort pillow has a built in speaker so that you can head into dreamland listening to your favorite tunes or listen to the TV without disturbing the slumbering partner in your bed.
Company Overview:
Ellery Homestyles specializes in the production and distribution of branded and private label home fashion products. The Company, which traces its roots back to 1924, designs and produces window curtains, bedding, decorative pillows, blankets, throws and specialty products. Featured brands include Waverly bedding, Eclipse™ blackout energy-saving curtains, Comfort Tech Thinsulate 3M blankets & throws, Colonial Williamsburg bedding, William & Mary bedding and Sound Asleep™.
Ellery is the exclusive distributor in the US for the NEW Sound Asleep™ Comfort Pillow. It's perfect for all ages!
Adults will love listening to music, relaxing sounds & audio books or learning a foreign language while relaxing. Kids will enjoy listening to their favorite music or television shows at bedtime. You can even take it with you when you travel and the best part is the sound is contained within the pillow and will not disturb anyone else around you. The speaker is buried deep within the comfort fill for the ultimate comfort experience!
Product Features:
Built-in speaker
Detachable 46" stereo cable
Connects to iPods, MP3 players, smart phones, radios & TV's
Standard 20x26"
White 100% cotton cover
Hypoallergenic poly fill
No batteries needed
What I Can Tell You:
I don't have an iPod but I do have a Sirius Satellite radio, mp3 player that I plugged into the pillow. I switched my radio to
Twilight: The Score
. It instantly came through my pillow. I shut the light and listened to Bella's Lullaby. Very relaxing and I felt the sudden urge to re-watch Twilight (I'm proud to say, it's been over 11 months since I watched Twilight).
Now for the real test, call in the kids, one at a time. Handsome was in his room watching his beloved Blue's Clues (7 years and counting). I asked him to lie down as I searched for his favorite song. He said, "I don't want to lie down." I said, "Lie down" and put the song on. He smiled and got under my cover. When the song was over, he said, "again!" I put it on for him and headed to my daughter's room asking her to come in when she had a moment. She came in and I put on Taylor Swift. "Ahhhh...how is that happening? How is the music coming out of the pillow?" After answering her million questions and playing three Taylor songs and a Gretchen Wilson she headed back to her room for bed.
The next morning she woke with a fever. I put her on the couch and put the blanket over her as I headed into the kitchen for the thermometer and Tylenol. "Mom, can you get me your pillow so I can listen to music?" 100 degree temp and all she wanted was the Sound Asleep pillow.
I have used the pillow every day since I got it and believe this is a great gift idea for the anyone on your list over 6. I would be afraid to let me little ones sleep with it because of the cord but it really is a great product and very reasonably priced and can be purchased online at:
Amazon
,
CVS
and
Linens and Things
. You can also buy it Bed, Bath and Beyond.
Check out the
fun video
The awesome folks at Sound Asleep have offered to give one of my readers the chance to check out this innovative product for themselves.
The Giveaway:
1
Winner will receive a Sound Asleep Comfort Pillow with Built In Speakers
To Win: "Like" Sound Asleep on Facebook and leave a message on their wall linking to this contest or state that you are from @Maria's Space
by midnight November 14, 2010
For Extra Entries:
*Blog about this, and leave me the link for (3 extra entries) (each entry must be separate)
*Follow my blog (2 entries) (each entry must be separate)
*Subscribe to
Chotskies
*Follow
Dreamerz Guide
on Twitter and link to this post
*Enter another giveaway on my blog and let me know which one.
*Comment on a non-giveaway post and tell me which one.
*Become a fan of Maria's Space on
Facebook (Not my personal Facebook)
and post a message that you entered with a link to the giveaway on your Facebook page and leave a link to the message in the entry form.
*Add me to your blog roll and leave the link
*Like this post on Facebook - Button on the bottom of this post.
*Add my Holiday Button to your sidebar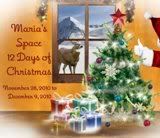 *Follow me under networked blogs (on my left side bar)
*Add my main button to your side bar

Do not leave entries in the comment section,
those are for comments about the post only!!!!!
Disclaimer:
I received a complimentary pillow from Sound Asleep. They are also providing the giveaway.