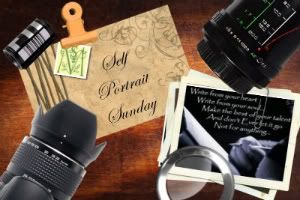 My husband spent some time fixing my button for me tonight. It is on my side bar for the taking.
I have no idea what Ortonish means on Picnik but I always use it. I love the effect. You wouldn't want to see the before picture on this one. Yikes! A week of being sick; dry hair, dry skin, coughing for the past three weeks, does not do a body good. This photo makes me look at least 10 years younger than the actual which no one should ever have to see.
If you want, to next week, how about we try a theme again?
You can just post a picture of yourself of course or you can choose between these two themes.
Post a photo of yourself in Sepia
Or
Post a photo of yourself wearing your favorite shirt (if you have one and tell us why it is your favorite).
If you are new to the meme, welcome. To find out why I began Self Portrait Sunday, see my first post
here
.