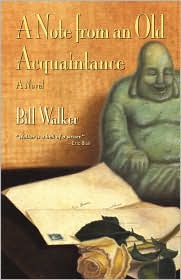 Yesterday I mentioned I would post my review of A Note From An Old Acquaintance by Bill Walker.
Product Details
Pub. Date: June 2009

Publisher: iUniverse, Incorporated

Format: Hardcover, 360pp

ISBN-13: 9781440133350

ISBN: 1440133352
Synopsis
Brian Weller is a haunted man. It's been two years since the tragic accident that left his three-year-old son dead and his wife in an irreversible coma. A popular author of mega-selling thrillers, Brian's life has reached a crossroads: his new book is stalled, his wife's prognosis is dire, and he teeters on the brink of despair.

Everything changes the morning an e-mail arrives from Boston artist Joanna Richman. Her heartfelt note brings back all the poignant memories: the night their eyes met, the fiery passion of their short-lived affair, and the agonizing moment he was forced to leave Joanna forever. Now, fifteen years later, the guilt and anger threaten to overwhelm him. Vowing to make things right, Brian arranges a book-signing tour that will take him back to Boston. He is eager to see Joanna again, but remains unsure where their reunion will lead. One thing is certain: the forces that tore their love asunder will stop at nothing to keep them apart.
Filled with tender romance and taut suspense,
A Note from an Old Acquaintance
is an unforgettable story about fate, honor, and the power of true love.
I sat down with this book while on sick leave from my life. I feel like I or one of my kids have been sick for a month now.
The book started off so sad, to think that this man Brian loses his wife who has been in a coma since the accident that took the life of his three year old son is just devastating. Then he receives an email from an old love. From someone he hasn't spoken to in 15 years.
His relationship with Joanna was something he never quite got over, nor for that matter, had she. I loved the back story which makes up a lot of the book about how Brian and Joanna met and ended their love affair.
At first, I was questioning Joanna's motives. Why after all this time did she reach out to Brian? In the end we know why their affair ended and how their relationship affected all parties involved.
Without giving away too much story. This is a book you should read. Bill, is a thought provoking writer who had me distracted a few times while I pondered what I would do if Frank, Rich, Manny, Danny, Tommy, Steve, (and I will stop the list now so I don't make myself look like a total loser) looked me up and tried to get in touch again. Would I be ok with how the relationship ended? Would I want them back in my life in anyway?
A Note From An Old Acquaintance is a book I would highly recommend and will list on my holiday gift guide as well.