If you are new to the meme, welcome. To find out why I began Self Portrait Sunday, see my first post
here
.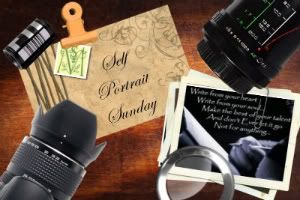 The rules are simple. Just post a picture of yourself linking back here. Hope to see your beautiful faces.
So blurry, I know it, Blackberry photo..I was out last night for a half hour with
Lauri
. We went to see
Sheress
who was holding a Scentsy party in town. It was quick but I felt like such a big girl out at night with a girlfriend, giggling, acting silly and grabbing coffee.
Here is me and my babies sitting on the couch today. I love both their faces in this picture. It was taken with my Blackberry so the quality sucks but they look sweet.