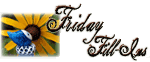 And...here we go!
1. Sweet dreams
are made of these
2.
Coffee starts my morning
especially for me
who hasn't had a full night sleep in over 6 years.
3. Silliness
keeps you young.
4.
My kids are so excited about their costumes,
this Halloween.
5. Outstanding or not
I will continue to blog
6.
Some alone time with the MAN
is what I want right now!
7. And as for the weekend, tonight I'm looking forward to
Ghost Whisper
tomorrow my plans include
some alone time with the MAN
and Sunday, I want to
spend some time outdoors.