I am beyond excited to host this Candyless Easter Basket Giveaway for all four titles of Prestel Junior's
All Around Bustletown
series. Over the past two weeks I have wondered how I would be able to fill my children's Easter Baskets this year. Since I am an early shopper and always looking for deals I started the end of February but it was just two small things to add to their basket. It really may be all they get this year depending on the state of the world as we get closer to the holiday. If you have little ones these books are perfect for your children on Easter or anytime.
Prestel's new

All Around Bustletown

series (Board Book $12.95; Ages 2-5; 14 pages) by Rotraut Susanne Berner follows the activities of a charming, bustling town over the course of all four seasons! If you look closer, you'll recognize the same characters appear on every page, each with their own story. In the tradition of Richard Scarry and

Where's Waldo

, this series encourages kids to return again and again to each spread, following along with the characters and inventing their own stories. They'll recognize parts of their own world, while also learning about the endless ways we live, work, and play in each season. Kids will spend hours poring over these oversized pages of vibrantly detailed drawings in this joyfully illustrated series.
"What is it about cross-section illustrations — the kind where you can see everything going on inside a house, upstairs and down, all at once — that makes them so mesmerizing? Berner, one of Germany's best-known children's authors and illustrators, excels at these fascinating dollhouse-type scenes, a staple of the German genre known as Wimmelbooks. Hers are jam-packed with old and young characters engaged in prosaic, silly or mysterious activities that young readers can spend hours poring over...Parents and grandparents may be especially susceptible to this giant board book's old-fashioned charms." —

The New York Times
"[T]his book is more than just a sea of samey same same white faces. Amazing how that contributes to the joy of picking out all the details and repeating characters. A seek-and-find book for the 21st century." —

School Library Journal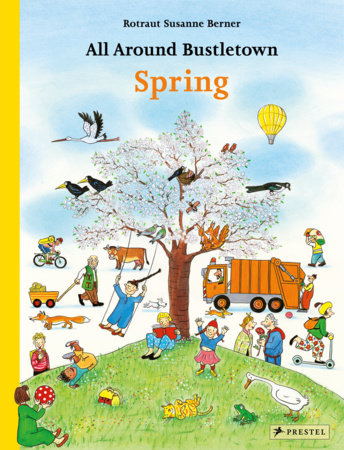 In

All Around Bustletown: Spring

(2/18/2020; ISBN: 978-3791374093), a house gets a top-to-bottom spring cleaning and farm fields are being prepared for planting. People are shopping, commuting to work, constructing buildings, and meeting friends. If you look closer, you'll recognize the same characters appear on every page, each with their own story. There's Wilfred the jogger slipping on a banana peel and his friend Erica who comes to help him. Three cheerful nuns shop, chat, and share a snack at the cafe. A stork surveys all the activity from the sky while a mischievous fox scampers through the streets.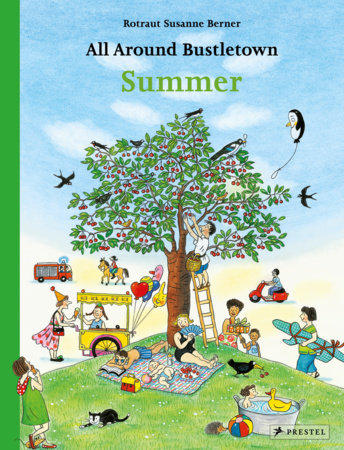 It's summer in
All Around Bustletown: Summer
(4/21/2020; ISBN: 978-3791374208) and that means flowers, picnics, thunderstorms, and bike rides. It's a busy time for construction workers, farmers, and house painters. Playgrounds are filled with kids and vacationers are boarding trains in droves. In the sky a pair of balloons drifts through every scene, while on the street people of all ages make their way to an outdoor birthday party. There's even a big storm that turns umbrellas inside out, sends hats flying, but ends in a lovely rainbow.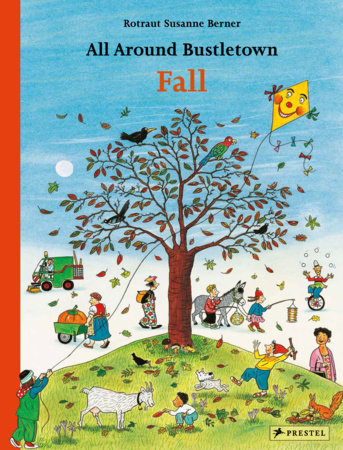 The leaves are blowing off the trees and the birds are flying south in

All Around Bustletown: Fall

(7/21/2020; ISBN: 978-3791374222). Farmers are preparing the fields for winter and kids are back in school. And look, there's a water main break that's causing havoc and a chimney sweeper perched on a roof! Each time readers look at these delightfully detailed spreads they'll discover something new, whether it's what's for sale at the outdoor market or how many pumpkins they can spot on a single page. Familiar characters appear on each page--a maestro and a violinist, a balloon-toting nun, and a mom with her baby. All the activity culminates in a harvest celebration lit by dozens of paper lanterns in every shape and size.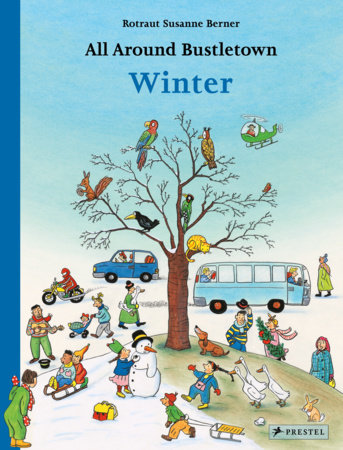 Winter has arrived in

All Around Bustletown: Winter

(10/2019; ISBN: 978-3791374154) and everywhere you look people are embracing the season. At home there's baking, reading, and sleeping in, while on the farm the fields are fallow and quiet. Outside people are bundled up against the cold as they are skating, sledding, and running to catch a crowded bus. The town's buildings are alive with activity--piano lessons, a dentist appointment, shopping for presents, and visiting the museum.
Kids will spend hours looking at these books. There is so much to see and so much for you to point out. I love these types of books when my kids were small and now with my preschool class because I love I Spy Type questions. You can ask where is the computer, or red car, squirrel, etc. Kids love looking for things and get so excited when they know where something is. It is really good for their confidence and observing visual details. It helps them to strengthen their memory. Working memory is so important and like a muscle it requires exercise. This is what they will build on as they progress through their schooling.
So while they are looking at all the detail and remembering where things are, they are actually learning.
To Enter the giveaway be sure to answer the mandatory question. Without that you will be disqualified to enter. I wish you good luck!
Enter here:
Disclaimer: No monetary compensation was offered for me to host this giveaway.