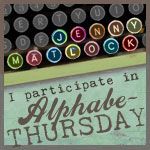 Wow, I can't believe it is Thursday already. This week flew by. Here is my submission for almighty B.
My daughter 2 days ago, before allergies have taken over her eyes. At the moment, she does not look like this. Her eyes are swollen and the whites of her eyes are red!
This years Easter Baskets. I couldn't get my daughter to sit still for a second and this was before the sugar rush!