Can you believe it's 20 years since Thelma and Louise was released in theaters? I can't! I love this movie. Susan Sarandon, Geena Davis and Brad "yummy" Pitt.
If you haven't seen this movie yet, this is a must see. Two butt kicking chicks take the law into their own hands and become accidental outlaws. It's been years since I've seen it but it was a favorite of mine and that had nothing to do with a young, long haired Brad Pitt either.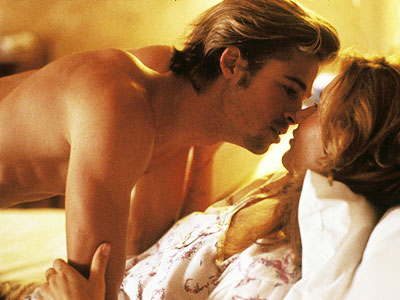 The special 20th Anniversary Edition Blu-ray will be available for a suggested retail price of $19.99
Thelma & Louise (20th Anniversary) [Blu-ray]
Special Features
●
Commentary by Ridley Scott
●
Commentary by Susan Sarandon, Geena Davis and Callie Khouri
●
Deleted and Extended Scenes
●
Extended Ending (with Commentary by Ridley Scott)
●
Documentaries and Featurettes, including "Thelma and Louise: The Last Journey"
●
Original Theatrical Featurette (with and without promotional narration)
●
Multi-Angle Storyboards: The Final Chase
●
"Part of You, Part of Me" Music Video by Glenn Frey
●
Trailer and TV Spots
Metro-Goldwyn-Mayer Inc.
Metro-Goldwyn-Mayer Inc., through its operating subsidiaries, is actively engaged in the worldwide production and distribution of motion pictures, television programming, home video, interactive media, music and licensed merchandise. The company owns the world's largest library of modern films, comprising around 4,100 titles. Operating units include Metro-Goldwyn-Mayer Studios Inc., Metro-Goldwyn-Mayer Pictures Inc., United Artists Films Inc., Ventanazul, MGM Television Entertainment Inc., MGM Networks Inc., MGM Domestic Networks LLC, MGM Distribution Co., MGM International Television Distribution Inc., Metro-Goldwyn-Mayer Home Entertainment LLC, MGM ON STAGE, MGM Music, MGM Worldwide Digital Media, MGM Consumer Products and MGM Interactive. In addition, MGM has ownership interests in international TV channels reaching nearly 120 countries. MGM ownership is as follows: Providence Equity Partners (29%), TPG (21%), Sony Corporation of America (20%), Comcast (20%), DLJ Merchant Banking Partners (7%) and Quadrangle Group (3%). For more information, visit
www.mgm.com
.