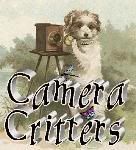 I am sorry but I need some words here; What the hell is this? It was about as big as my middle finger and had two yellow eyes. It's body was very hard. I am assuming it is a Sphinx Moth of some kind but I am hoping someone could tell me what was hiding in my outdoor gazebo.
For another picture of this interesting creature, come over
here
to my other blog
: AFTER MUCH RESEARCH I HAVE INFORMATION ON THIS CREATURE.
It is called a Tiger Swallowtail. Because of it's color I assumed it was a moth caterpillar. It is not, it is in fact a butterfly.
It took forever to find information on this guy. I was searching through archives of moth caterpillars. Doh!
Check out
this
link for photos of the caterpiller in the various stages and then becoming a butterfly.

Another photo.
Some video
Tiger Swallowtail Caterpillar
-
Funny home videos are a click away