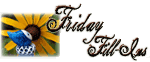 1. October
is my favorite month
.
2. "
Things under the bed, in the closet, behind the shower curtain
" scare me!
3. Leaves are falling all around,
it's hard to see the

F'in

ground. (No???)
4. My favorite horror movie is
Young Frankenstein
because it's not really a horror movie. I am a

whimp

.
5.
Hanging with Diane and Teresa
= good memories.
6. It was a dark and stormy night.
The next thing I knew the sun was up and I had slept through the whole thing.
7. And as for the weekend, tonight I'm looking forward to
hanging with the Teach
, tomorrow my plans include
trying to get these kids to play soccer
and Sunday, I want to
go to church.