Watch Ya' Mouth 90s Edition will take you back to a brighter, more simple time when Scrunchies were cool and Marky Mark was a musician. With the 90s bundle, you get twice the content and nostalgia for days! That's tight, yo!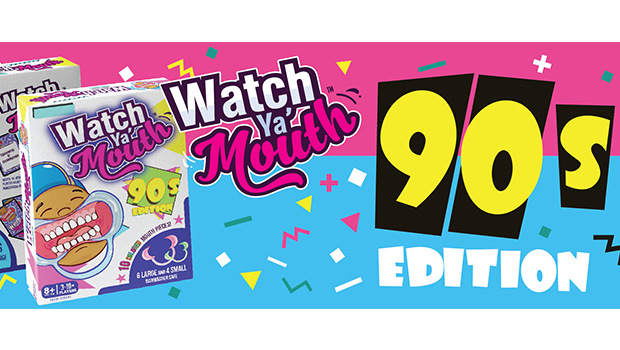 The 411:
There are so many ways to play Watch Ya' Mouth because there are so many editions and all of them are fun. This is the 90s Edition which features some of your favorite pop culture icons, sayings, bands and more that will have you yearning for some Marky Mark and the Funky Bunch music and so hapy that mullets are no longer a thing. I played with my daughter and then with her and her friend. It was fun because neither of them had any knowledge of what was on the cards which made it easier for me but hard for them.
There are 200 cards with 90s themed sayings that will have you cracking up or feeling nostalgic for the days we thought were difficult. Lord! We had no idea what was coming down the pike. This games reminded me how much I loved the 90s.
The game comes with 6 adult size and 4 kid sized although my daughter felt the kid size was still too big for her mouth. Our only complaint the first day we played was that that mouth pieces hurt our mouth however, I felt that I got use to it while all my daughter did was complain. Her friend seemed to have problems with mouth pain in the very beginning but then was playing along. My daughter who is a skinny 13 kept taking hers out because she said it really hurt the sides of her mouth. The first day I felt it was really uncomfortable but the second day didn't have too many problems.
The mouth pieces are easy to put in once you get how they should go. We all felt odd with our horse teeth showing but once we got going it was so much fun. We found ourselves even doing our turn with the mouthpiece.
If you love games this is a must have. It is hysterical trying to understand what is being read to you. We used the timer in the beginning then stopped because we just wanted to focus on the game not watch the sands. Whenever we got it we got it no matter how long it took but you can use the timer if that is your thing.
There are no instructions to the game. You can play however you like and we are dying to play this during the holiday when we get together with family visiting from Cali!
Idea: Have a kid free night and get the
Watch
Ya Mouth Adult Edition. Good times for sure.
To Purchase:
Visit
Watch Ya' Mouth