Yes, I have reviewed and run a giveaway for Fiber Gummies in the past. My kids are still asking for the Fiber Gummies every day and I have purchased 3 bottles since hosting Pedia-Lax Fiber Gummies in August (my
review
).
Pedia-Lax® Fiber Gummies
, are a daily fiber supplement made just for kids by Fleet
®
, a trusted brand for digestive health for more than 100 years. Pedia-Lax Fiber Gummies are a great, tasty and sugar-free way to get some much-needed fiber into your little ones' diets.
Product Details:
For kids ages 2-11
Fiber helps promote regularity*
1.5 grams of fiber per gummy
Source of fiber: Polydextrose
Penguin-shaped gummies deliver fiber in a chewable, kid-friendly form
Sugar-free, zero calories
Great tasting, all natural fruit flavors
Xylitol, the sweetener used in Pedia-Lax Fiber Gummies may reduce the risk of cavities
Easy to incorporate into daily routine
This product is not a laxative
Dentist approved
My kids really do love these. What's not to love? They taste great and are handed to the kids along with their daily vitamin in the morning. Then I put it in their lunch box in a baggie to be eaten with their lunch at school and after dinner. Believe me, 3 times a day seems like a lot but they will not complain.
Head over to Pedia-Lax for so many awesome tools for parents;. like a fiber diary, a poop journal, gummy fun and games and more.
Fortunately, my kids have never had a problem with digestion but I know a lot of parents who have had a problem with their kids digestive health since the beginning. There is nothing like getting your recommended servings of fruit and vegetables from well, fruit and vegetables but if your kids are like mine, they are not eating enough fruit or veggies. These cute, colorful, fiber filled, gummy penguins are a great alternative to the real thing.
Pedia-Lax Fiber Gummies are available at CVS and Target, supermarkets and online retailers like Amazon for approximately $7.99 a bottle.
Head to Pedia-Lax on
Facebook
for a coupon and while there enter the Pedia-Lax Fiber Gummies "Keep Kids Moving" Sweepstakes!
The Giveaway: A bottle of Pedia-Lax Fiber Gummies to try for yourself.
The Sponsor:
Pedia-Lax Fiber Gummies
To Win:
Head over to Pedia-Lax Fiber Gummies and leave me a comment by
Midnight, December 8, 2010
For Extra Entries:
*Like Pedia-Lax Fiber Gummies on
Facebook
*Blog about this, and leave me the link for (5 extra entries) (each entry must be separate)
*Follow my blog (2 entries) (each entry must be separate)
*Subscribe to
Chotskies
*Follow me on
Networked Blogs (2 entries)
*Follow me on Twitter and Tweet (leave your link)
*Share this post on Facebook by using the button below.
*Enter another giveaway on my blog and let me know which one.
*Comment on a non-giveaway post and tell me which one.
*Become a fan of Maria's Space on
Facebook (Not my personal Facebook)
and post a message that you entered with a link to the giveaway on your Facebook page and leave a link to the message in the entry form (3 Entries).
*Add me to your blog roll and leave the link
*Add my Holiday Button to your sidebar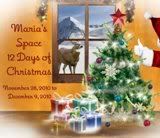 *Add my main button to your side bar

Do not leave entries in the comment section,
those are for comments about the post only!!!!!
Disclaimer
: I received samples of Pedi-Lax Fiber Gummies products to write this review.