While trolling Etsy the other day looking for Christmas gifts ideas and things to post for my lovely readers I spotted the coolest, idea I have seen in a long time. Really, not kidding. I love it.
From her Etsy site:
Our Cocoa Melts & Cocoa Melties melt quickly to give you the richest, creamiest, most decadent cup of hot chocolate you've ever had!
We have combined (3) of the finest imported Dutch cocoa's, cream, milk, & natural flavorings to create our decadent hot chocolate.
They are NOT made from a POWDER or WAXY chocolate discs. All of our products are made fresh to order...
I had a chance to talk to City Girl about her confection shop and this is what she had to say:
Hi, I love your shop. Your products are different and amazing. Can you tell us a little about yourself?
"I simply love what I do & have been blessed to be able to do what I love...
I have been making gourmet confections for over 12 years & I also do dessert catering.
I enjoy being in the kitchen with my two daughters, who are grown & married. I have the most
wonderful husband who is very supportive & helps me out when things get crazy..."
How long has your Etsy shop been online or why did you start your Etsy shop?
"I discovered Etsy by accident one night & thought what a great avenue for selling my products. So, I took the leap and joined Etsy about 1 1/2 years ago."
Where did the Cocoa Melt idea come from?
"I was in the kitchen making a recipe & I goofed, but that goof was the beginning of the Cocoa Melt. I have been making them for over 6 years now & I have not met one person of any age who does not like Cocoa Melts..."
Where do I get my inspiration?
"It comes from God of course, but also my love of being creative. It brings me such joy when I can make someone happy and bring a smile to their face. My entire family is very creative, so I guess i really have my parents to thank..."
What do you love most about what you do?
"I love it all, but most of all I really love my clients. I have had some clients for over 12 years now and we still have respect for one another. I take great pride in customer satisfaction. I treat my clients the way I like to be treated. I also like to create beautiful packaging..."
Where do you see yourself in 5 years?
"Hopefully still doing what I love, creating! Still happily married & enjoying life!"
What I Can Tell You:
We had just returned from a very cold soccer field when I saw the box from City Girl Chocolates sitting on my steps. It was almost impossible to open the door, get the kids changed, throw their clothes in the laundry, make handsome lunch knowing what was in the box and how cold Goddess and I were.
I somehow managed to keep my eye on the prize while doing my Mommy duties. It was hard and I was dying to share with Goddess what was in the box but she would have driven me crazy so I waited until I was done.
We opened the box and wa-la. Behold the goodies.
Goddess couldn't wait and it took her a while to decide which one was the one we should try to warm up.
We are saving these little cuties for later.
Right now as Goddess sees this post she is saying, "those are are so yummy!"
Here she is while I was heating up the milk. Just a little excited no!?
It was really hard for us not to semi melt the chocolate and eat it right from the stick like a chocolate lollipop.
We loved them. Goddess thinks we should give them to everyone we know and believe me, if I could, I would. We are going to purchase some for our teachers and aids this year. Usually I make something, but I am dying to share these with someone.
Look for these in my
2010 Holiday Gift Guide
.
These are the perfect stocking stuffers, teacher, grab bag, hostess gifts!
City Girl likes to share too and she has generously offered a giveaway.
The Giveaway:
1 Winner will receive a $20.00 gift card code to City Girl Chocolates.
To Win:
Head over to City Girl Chocolates and tell me what you would spend the money on if you were to win by
Midnight, December 4, 2010
For Extra Entries:
*Blog about this, and leave me the link for (5 extra entries) (each entry must be separate)
*Follow my blog (2 entries) (each entry must be separate)
*Subscribe to
Chotskies
*Follow me on
Networked Blogs (2 entries)
*Follow me on Twitter and Tweet (leave your link)
*Share this post on Facebook by using the button below.
*Enter another giveaway on my blog and let me know which one.
*Comment on a non-giveaway post and tell me which one.
*Become a fan of Maria's Space on
Facebook (Not my personal Facebook)
and post a message that you entered with a link to the giveaway on your Facebook page and leave a link to the message in the entry form (3 Entries).
*Add me to your blog roll and leave the link
*Add my Holiday Button to your sidebar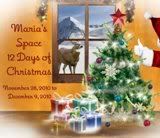 *Add my main button to your side bar

Do not leave entries in the comment section,
those are for comments about the post only!!!!!
*Open to US residents only.
Disclosure: "This post was written for City Chocolate Girl who provided the complimentary product for review & giveaway in exchange for my honest opinions."