Photo Friday
- This week's challenge: 'The Extraordinary'. This statue looks extraordinarily tall.
The Friday Five
What did you want to be when you were a kid? In this order: Jockey, Vet, Doctor, Nurse

What is your proudest accomplishment so far? Being a mom
What is your dream job? It would be to actually get paid for blogging, photography, or writing.
Where do you see yourself in 10 years? Hopefully above ground, watching my kids turn into teenagers, and still being as happy and calm as I am these days.
What does it take to make you happy? It takes being with my family, watching my kids be nice to each other, my husband spending time with us. I just want to be with my little family. I am happiest at home with my husband and children.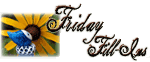 1. There is no need
for prejudice
2. Where in the heck
did the years go.
3.
Breathing
is all I managed to do.
4. Prospects
for the future are good
.
5.
Peace
is the message.
6. Simplicity and tranquility
are what I strive for
.
7. And as for the weekend, tonight I'm looking forward to
chilling with the man
tomorrow my plans include
soccer
and Sunday I look forward to
a visit from family.