This month Pear Tree Greetings has a wonderful giveaway entitled:
What's Your Resolution? – Photo New Year's Cards.
Can you believe it is almost 2011?! That's right; here come the New Year's resolutions of getting a gym membership, getting organized and eating less. Pear Tree wanted to take a more positive approach; rather than nitpicking at yourself, find something that you enjoy doing and do more of that, "this year I will eat more chocolate" or "this year I will relax more"! So this month's giveaway will be 16 free What's Your Resolution? – Photo New Year's Cards to one winner you choose. What better way to show your friends and family what your New Year's resolution will be this year than with this card!
I love this idea. After the December rush of holiday cards, January usually brings loads of bills from all that holiday shopping we did. Why not make someone's day with a photo card!
Check out Pear Tree's promo cards for the month
here
.
If I were to send out a card this year for my resolution it would be to spend more time doing the things I really want to do like; coloring and reading with my kids, run outside, go bike riding, visit family if I can, spend more quality time with my husband and finding a part time job to help pay for the medical costs of this year.
However, my favorite memory of the year was watching my son get his first soccer goal. He has had 4 since then and it never gets old but the 1st one was amazing! I had to actually hug people because I was so happy, so I did! Walked around hugging other moms. Watching him thrust his fist into the air was so inspiring.
What is your favorite 2010 memory!
To Win: Leave me a comment telling me what resolution and you would put on your cards if you won by

Midnight, December 22, 2010
For Extra Entries:
*Blog about this, and leave me the link for (5 extra entries) (each entry must be separate)
*Follow my blog (2 entries) (each entry must be separate)
*Subscribe to
Chotskies
*Follow me on
Networked Blogs
*Follow me on Twitter and Tweet using hastag #myblogspark
*Share this post on Facebook by using the button below.
*Enter another giveaway on my blog and let me know which one.
*Comment on a non-giveaway post and tell me which one.
*Become a fan of Maria's Space on
Facebook (Not my personal Facebook)
and post a message that you entered with a link to the giveaway on your Facebook page and leave a link to the message in the entry form.
*Add me to your blog roll and leave the link
*Add my Holiday Button to your sidebar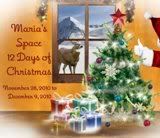 *Add my main button to your side bar

Do not leave entries in the comment section,
those are for comments about the post only!!!!!
*Open to US residents only.
Disclosure: Pear Tree will be supplying the giveaway.