Mermaid swimming party for kids and adults! Learn to swim in this fun and dynamic 60-minute aqua-fitness class in a mermaid's tail. You'll learn different synchronized swimming techniques to get you feeling like a beautiful mermaid. You'll be surprised at the speed and power behind the mermaid's tail. We'll leave time for photos at the end, so bring your camera to get the perfect shot of you as a mermaid. Host your next birthday or bachelorette party with us.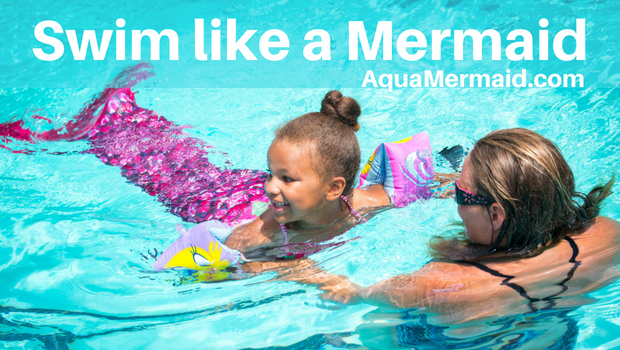 * Swimmable mermaid tail are supplied. *Requirements: Minimum age 7 yrs & participants must be know how to swim. *Mermaid tails also available for purchase.
10% OFF MERMAID SWIMMING CLASS & MERMAID TAILS - Try a mermaid swimming class for kids or adults with AquaMermaid School!
Use code: familyguide10 to save 10% off a class and mermaid tails! Locations across USA and Canada.
Visit: www.aquamermaid.com
https://www.usfamilycoupons.com/coupon.php?regionid=75&bid=13741&dealid=3655 .@usfg
The 411:
While we can't get to a pool this time of year my daughter has worn the tail a few times at home. She loves sitting there flipping her tail and having the cats run over to see what she is up to. She says it is easy to get into and she adores the color. It really is very pretty.
The monofin insert that goes inside the bottom of the tail comes with inserts that keep your feet inside and it is easy to adjust. We also love the zipper at the bottom of the tail which makes it very easy to get to the monofin and your feet.
I love the idea of doing an AquaMermaid class with my friends. There isn't one near me but maybe near you. Find out
here
.
I am going to get one one day! I love it and so jealous that my daughter gets to be a mermaid.
Disclaimer: I received a complimentary product for my honest opinion. No monetary compensation was offered.