For Immediate Release
September 19, 2022
Alyssa Milano Hosts a Critical Conversation about Girls, Mental Health and Rising Suicide Attempts with Donna Jackson Nakazawa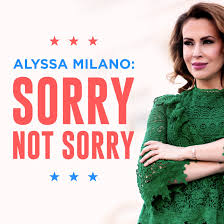 On the latest episode of her critically acclaimed podcast, Alyssa Milano: Sorry Not Sorry, actress, activist, writer and producer Alyssa Milano speaks to Donna Jackson Nakazawa, author of Girls on the Brink: Helping Our Daughters Thrive in an Era of Increased Anxiety, Depression, and Social Media about her new book as well as how Covid and the pressures of social media have combined to intensify the mental health crisis faced by girls in America.
Donna Jackson Nakazawa is an award-winning journalist and internationally-recognized speaker whose work explores the intersection of neuroscience, immunology, and human emotion. Her mission is to translate emerging science in ways that help those with chronic conditions find healing. Her new book Girls on the Brink: Helping Our Daughters Thrive in an Era of Increased Anxiety, Depression, and Social Media is now available.
Alyssa Milano: Sorry Not Sorry tackles social, political and cultural issues from the perspective of unapologetic guests while highlighting activists doing amazing things throughout the country. Past guests on the show include President Biden, Senator Chris Murphy, Wil Wheaton, Malcolm Nance, Rep. Adam Schiff, Justin Baldoni, Kwame Alexander, Rep. Carolyn Maloney, Ben Jealous, Sen. Ted Cruz, Van Jones and many more. Available on all podcasting platforms.
Alyssa Milano is an actor, producer, host, activist, entrepreneur, humanitarian, and NY Times Best-Selling author. She hosts and produces the successful podcast, Alyssa Milano: Sorry Not Sorry, which is also the name of her most recent book, a collection of essays about her life, career, and the humanitarian work at the heart of it all (Dutton). Her four-book middle-grade series with Scholastic began with the best-selling Hope, Project Middle School, with the fourth, Hope: Project Go Green, published in 2021. Milano starred on the long running series "Charmed" and "Who's the Boss" and has appeared in more than 20 films over the course of her career. Her most recent film, Netflix' "Brazen" accrued over 94 million viewing hours in its first month of release. As an activist, Milano chooses to shine a spotlight on causes that matter deeply to her. Her advancement of #MeToo sparked a viral movement of women fighting against sexual harassment and assault. She is active on the ERA Coalition's Advisory Council. She is also the ACLU's Ambassador for Reproductive Rights. In the wake of the mass shooting at Stoneman Douglas High School, Alyssa became one of the founders of NoRA, a coalition dedicated to combating the NRA money in political campaigns. For 15 years, she has been a UNICEF National Ambassador. She has lobbied members of congress for greater rights for immigrants as well as education reform and has been on the forefront of efforts to protect health coverage for all Americans.
Alyssa Milano on Social Media:
https://twitter.com/Alyssa_Milano
https://www.instagram.com/milano_alyssa/
https://www.facebook.com/AlyssaMilano
https://www.tiktok.com/@alyssa_milano?lang=en
Donna Jackson Nakazawa on Social Media:
https://twitter.com/DonnaJackNak
https://www.instagram.com/donnajacksonnakazawa/
https://www.facebook.com/donnajacksonnakazawaauthor
Sorry Not Sorry on Social Media:
https://twitter.com/sorrynotsorry
https://www.instagram.com/sorrynotsorrypod/