No more bending, stretching or wobbling when shaving in showers thanks to Giraffe Razor Extension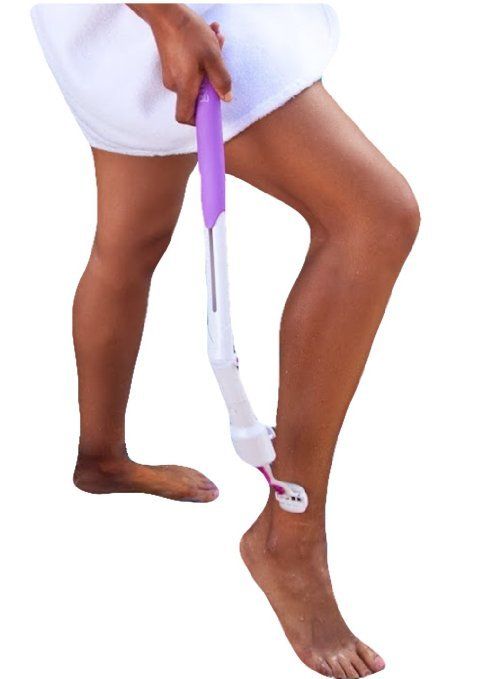 Never again risk slipping, falling or bending awkwardly in the shower when shaving with the Giraffe Razor Extension. Shaving just got easier — especially for expectant moms, women with arthritis, back pain or just with a small bath space — with the Giraffe Razor Extension Handle that will extend any razor an additional 15-20 inches of length!
The Giraffe Razor Extension has been featured on the Today show with Kathie Lee and Hoda during the "Bobbie's Buzz" segment, when style editor Bobbie Thomas was pregnant — and she loved the Giraffe for saving her when shaving!
The patented razor extension handle keeps women's feet safely on the floor:
Pivoting head rotates to different angles for hard-to-reach areas

Features two universal razor attachments that securely locks razors into place

Works with almost every reusable and disposable razor

No-slip grip with rubberized finish and quick connect and release buttons
The 411:
I have friends who say they never shave in the cold months. I don't know if it is because they are not showing their legs or because they need the additional insulation during the winter months but I always shave. If I didn't I would totally have man legs. However there were times that I couldn't shave my legs due to medical issues like surgery or pregnancy. Oh those were some long annoying weeks for me.
The Giraffe would have made all the difference and oh how I wish I had it back then.
With the Giraffe which comes with the long extension arm and two different size attachments to fit your razors. These attachments are both adjustable so there shouldn't be any razor that can't be used.
It is so easy to use. Press the button on the attachment and insert your favorite razor. Close the button which engages the clamp which will hold your razor steady and secure. There is also a button (purple) in the middle of the Giraffe which allows you to angle the razor to wherever you need it.
I believe the Giraffe will help many with back problems, arthritis and other medical or flexibility issues so you can reach those hard to reach places. I recall a time during the last weeks of my pregnancy where I couldn't reach my ankles so the leg was clean except the last two inches. Craziness!
To purchase the Giraffe is available for $29.99 on
Amazon.com
or
Giraffebathandbody.com.
Ex-firefighter and paramedic James Smith and his wife Kathryn, a registered nurse, co-founded Giraffe Bath & Body and were inspired to develop a shaving accessory that would assist women with varying physical abilities to shave their legs safely and comfortably. Today, emails and phone calls pour in thanking the couple for making lives easier and giving women back their independence.