Tweet
(Unabridged)
by Emma Donoghue
Read by Michael Friedman, Ellen Archer, Robert Petkoff, and Suzanne Toren
To five-year-old Jack,
Room: A Novel
is the entire world. It is where he was born and grew up; it's where he lives with his Ma as they learn and read and eat and sleep and play. At night, his Ma shuts him safely in the wardrobe, where he is meant to be asleep when Old Nick visits.
ROOM is home to Jack, but to Ma, it is the prison where Old Nick has held her captive for seven years. Through determination, ingenuity, and fierce motherly love, Ma has created a life for Jack. But she knows it's not
enough…not for her or for him. She devises a bold escape plan, one that relies on her young son's bravery and a lot of luck. What she does not realize is just how unprepared she is for the plan to actually work.
Told entirely in the language of the energetic, pragmatic five-year-old Jack, ROOM is a celebration of resilience and the limitless bond between parent and child, a brilliantly executed novel about what it means to journey from one world to another.
It takes more than just the book and the author to record an audiobook, and Hachette Book Group asked Michele McGonigle, Associate Director of Production for Hachette Audio and Director of ROOM, the audiobook, to answer some behind-the-scenes questions:
Hachette Book Group: What made you decide to do a multiple-cast recording for ROOM?
Michelle McGonigle: When I read the book to cast and prep for production, it just screamed out for more than one
narrator. Jack needed his own voice and so did Ma; to have one person read all parts would detract from the listener experience and not do the book justice. The impact of hearing Jack's voice, (read by Michal Friedman, an adult woman), as he tells his story, really places the listener in his world. Ellen Archer reads Ma and you can hear the restraint, joy, pain, frustration and fear in her voice, giving the listener a bit of insider information of what's going on. Jack is experiencing the same actions, words and emotions, however being a five year old, he doesn't understand what to make of or what is driving them. In a way, giving Ma her own voice allows her to tell part of her story as well.
HBG: What kinds of voices were you looking for in casting and what do you think each voice-recording artist brings to ROOM, the audiobook?
MM: Jack had to have a strong presence, be sweet, innocent, and believable; Michal Friedman delivers his words with the incorruptibility and honesty of a true five year old.
In the case of Ma, I was looking for a soft, patient, loving voice, struggling with staying calm and trying to prevent Jack from hearing/ feeling her fear and frustration; Ellen Archer was my immediate choice, being a real
mother who reflects these same qualities.
For all other female roles I needed a voice that could make Jack's grandma stand out just a bit more than the
others, but not to overshadow Jack and Ma. Suzanne Toren was perfect for this, she allowed her characters to be a part of the story without overtaking it.
As for the male voices, Robert Petkoff was the first person I thought of. He is capable of such different character voices and delivers a supporting performance which allows Ma and Jack to be the focus of this amazing journey.
What I Can Tell You:
I really wanted to read Room: A Novel
when it was released and was thankful to Hachette Book Group that I was able to hear it on audio book.
The story is told through 5 year old Jack's prospective. As a mom, it was difficult to listen to him speaking. If I were reading the book, I wouldn't have heard a child speaking, I would have heard my own voice. Room in audio book is that much more intense.
It was as if I were listening to and old radio show. The voices of Room started to have faces and their story and Jack's innocence were heartbreaking. Hearing Jack count bed spring noise and knowing what his mother was enduring were disturbing. My heart broke for both of them many times.
One can only imagine how Jack and his mother's isolated, little world shaped him and how the bravery of his mother and eventually himself saved them both.
Emma Donoghue does an incredible job of weaving an isolated world for two. The distinct voices and the feelings you get for each character only happens with the help of an amazing writer. The love of a mother and how she protects and makes things alright for Jack hurts my heart.
Room in book form will be on my wish list this year. I want to read along to the CD's. This is a story that will haunt me for a while.
The Giveaway:
3
Winners will receive a copy of Room on audio book
To Win: Leave me a comment before Midnight, November 10th
*Follow my blog (2 entries) (each entry must be separate)
*Subscribe to
Chotskies
*Enter another giveaway on my blog and let me know which one.
*Comment on a non-giveaway post and tell me which one.
*Become a fan of Maria's Space on
Facebook (Not my personal Facebook)
and post a message that you entered with a link to the giveaway on your Facebook page and leave a link to the message in the entry form.
*Add me to your blog roll and leave the link
*Like this post on Facebook - Button on the bottom of this post.
*Add my Holiday Button to your sidebar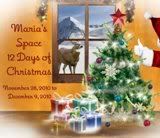 *Follow me under networked blogs (on my left side bar)
*Add my main button to your side bar

Do not leave entries in the comment section,
those are for comments about the post only!!!!!
Disclaimer:
I received a complimentary copy of
Room: A Novel
from Hachette Book Group. They are also providing the giveaway copies.