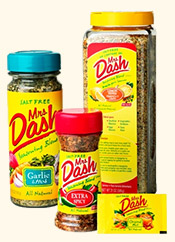 If you know me personally, you know I love cooking. I don't get to do as much as I used to. The house is so damn picky lately, including the husband, who is on his own eating plan (not that I'm complaining, nice results!).
As part of
Mom

Central's
Blog Tour, I received one of
Mrs. Dash
seasonings from the newest line.
Fiesta Lime!
Sounds great right? Well, it was. It smells awesome and right away I was transported to my honeymoon over 12 years ago. I started dreaming about steak and chicken marinating nicely. Starting to get hungry just writing about it, I don't know how all those food
bloggers
do it without noshing all day long.
With Mrs. Dash
®
Fiesta Lime Seasoning Blend
You can create healthy Mexican meals that are salt free and full of flavor. Take your taste buds south of the border and turn up the flavor in all your dishes, from chicken to tacos. Make any meal into a party and let the Mexican flavors of Mrs. Dash® Fiesta Lime Seasoning Blend dance their way into your meat, fish or vegetable dishes.
Ingredients: Spices (sweet chili pepper, cumin, paprika, cayenne pepper, black pepper, oregano, basil, bay marjoram, thyme, savory, coriander, mustard, rosemary), garlic, onion, lime juice solids, citric acid, lime peel, rice concentrate.
Fiesta Chicken Drummettes
Ingredients:
1 lb Chicken Drummettes
4 tsp Mrs. Dash® Fiesta Lime Seasoning Blend
Directions:
Preheat oven to 350° F. Lightly brush the chicken drummettes with olive oil.
Sprinkle Mrs. Dash® Fiesta Lime Seasoning Blend on all sides.
Bake for 30 minutes or until chicken is cooked through.
Yummy! I will be trying this one after I shop this weekend.

The Mrs. Dash® site has a ton of recipes for all of their seasoning blends. While I haven't used my sample on any of the sites recipes yet, I have used almost half my sample bottle. I used it in homemade soup, on my salad everyday since receiving it, and on my noodles last night. I also used it on my popcorn last night. I love flavored popcorn. I popped the corn and added my favorite hot sauce along with two tablespoons of the Fiesta Lime seasoning and it was awesome. I will be having it after lunch today. I would have it for breakfast but since I am a mom and have to set a good example for my kids, I will refrain.
I bet the Mrs. Dash® Fiesta Lime Seasoning Blend would taste amazing on grilled shrimp. Note to self: put shrimp on the shopping list!
Head over to the Mrs. Dash® website and sign up for their Monthly Newsletter, chock full of recipes and ideas to help you in the kitchen.

There is no reason to have boring chicken for the 3rd time this week. This is to you Stacy who has written this on Facebook three times this week. Stace, come across the street and I'll loan you my Mrs. Dash® Fiesta Lime or better yet, head over to the supermarket and pick up some Mrs. Dash. The seasonings sell for $2.99 each and their are 15 different varieties to choose from.
Bon Appetite!!!