I would like to share with you "pearls of the internet" on my radar for the week.
Check out
Knips and Nips
for some of the most stunning, thought provoking landscape photos around.
Loads of Photo tips at
Photo Bliss
. Sometimes when you fix red eye in photo programs it makes the eyes too dark. Check out
this one
on how to make eyes pop in Photoshop.
This weekend, March 14, from noon-2:00, TOYS R US is holding a Barbie Birthday Party for Barbie's 50th Birthday. Tons of fun for everyone.
Leprechaun's Irish Coffee
Ingredients:
- 1 part Jameson Irish Whiskey
- 2 parts Kahlua
- 2 parts half & half
Garnish: fresh mint sprig and vanilla bean

Shake all ingredients in a cocktail shaker with ice. Strain into a chilled martini glass. Garnish with fresh mint sprig and vanilla bean.
[
source
]

5 Minutes for Photography has some awesome
Information
on filling the frame of your photo, also get some linky love by placing a link to one of your own photos.
See how to make this really adorable Pot of Gold over at Make and Take
here
.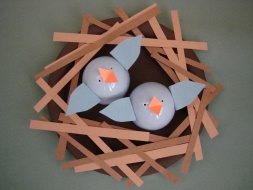 Spring Crafts for Kids - Head on over to Busy Bee Kid Crafts to find out how to make
these
cute little birds.
Learn how to make
this
adorable shamrock necklace over at The Small Object Steno Pad.
Check out Carrie and her amazing jewelery at her Etsy shop
PoetSummer
. I am also hosting a giveaway here. Enter to win a beautiful necklace
here
.