I got you there huh?
Nope this giveaway is not on my blog wahhhhhh....but...you can enter to win a
Guitar Hero Giveaway at An Ordinary Life.
Head over
here
to enter and win one of the biggest games ever. Good luck, I'm entering too!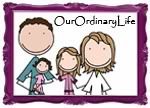 While visiting and entering this amazing giveaway, make sure you subscribe to her site. She offers awesome giveaways all the time and has the most adorable kids.
Oh, another thing..congratulate her on her latest creation due in a few short months.