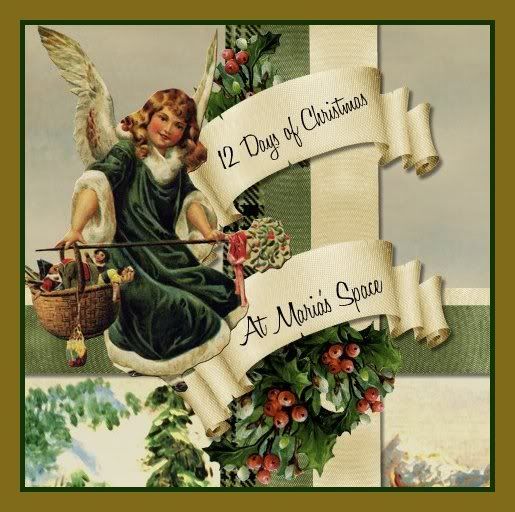 On the 3rd Day Of Christmas.....nananananana.....a
nanannan
. 12 Days of Christmas continues here at Maria's Space with my 3rd Giveaway of the month. Check out my review of the DVD Series.
Last week I wrote about
Flirty Girl Fitness
.
This week I was able to check out the
Crunchless

Series

.
I should have no reason to be in the shape of my life by next summer.
Haven't we all heard that crunches is what we need for our stomach. Want to get rid of that gut, baby stretch, muffin top, or whatever other fun words you want to use, than you need to do sit-ups and crunches. Now they make machines to take the pressure off our neck and back so that we can do those crunches that are supposed to help our stomach. I'm here to say
NO MORE

!

No more will you have to lie on the floor doing endless crunches to get that stomach we all want.
Do you have
?????????????????????????????????????????????????????????????????
You do? Well
Crunchless
Abs
is for you!
I opened the DVD which has
Crunchless
Abs 1-3.
Starting up
Crunchless

Abs
, I got ready. Does anyone else get all giddy and excited when they throw in an exercise tape that they have never seen?
All you need for this is a towel and a chair. The work out was nice and slow with great, sculpting, easy exercises. I was comfortable, they were easy, mixing yoga and
Pilate
poses. They used all of my favorites and then some. There were even some I had never seen but I can tell you that the work. "Pushing the door" gives that nice burn that we all want. The 10 minutes was over before I even realized I had worked out.
Crunchless

Abs 2
- On this one you will need a towel. This was another nice, slow, easy, no impact workout. I must say, this DVD was my favorite. I really felt the burn exactly where I want to. Right in my lower stomach!! There were tons of great lower stomach
exercise
which is something this mom of 2 truly needs. I can't wait to do this DVD every day.
Crunchless
Abs 3
-
This program only uses a mat or towel to stand on. These
exercises
are great for all over sculpting. I felt this in my back, arms, thighs, chest and more importantly, stomach.
"Think strong and you will be strong."
There is enough variety to keep even the workout maven challenged and motivated.
Crunchless

Abs 4
- On this one you will use an included "exercise tube" or resistance band and a door. Attach the band to a nearby door and get snappy.
Hahahaha
...
It took a minute to stop laughing when I started this program because Tracy who leads us through this workout reminded my of Amy
Poehler
from
SNL
with her warm up.
Finally realizing that I needed to get to work, I attached the "exercise tube" and began.
The exercises were different and felt good. I like the variety of the 4 DVDs.
All of the DVDs are only 10 minutes. Who doesn't have 10 minutes to spare in their day?
Head over to
Crunchless
and get the abs you want by Spring!!!
Giveaway Details:
Leave me a comment letting me know who your favorite exercise guru is.
The Contest ends on November 18, 2008 at midnight.
A Winner will be selected by Random.org and notified within 2 days.
You have 3 days to claim your prize or another winner will be selected.
Need more entries? 1 extra entry for each bullet
Subscribe to me by email or to my feed.
Post about this contest on your blog
Put my

12 Days Of Christmas Button

in your sidebar. I will be hosting a giveaway at least once a week for the next 5 weeks.